exacta® Aneroid Sphygmomanometer
exacta® - Riester's cuff-mounted, two-tube Sphygmomanometer with sturdy metal enclosure is now smaller and lighter than its previous model.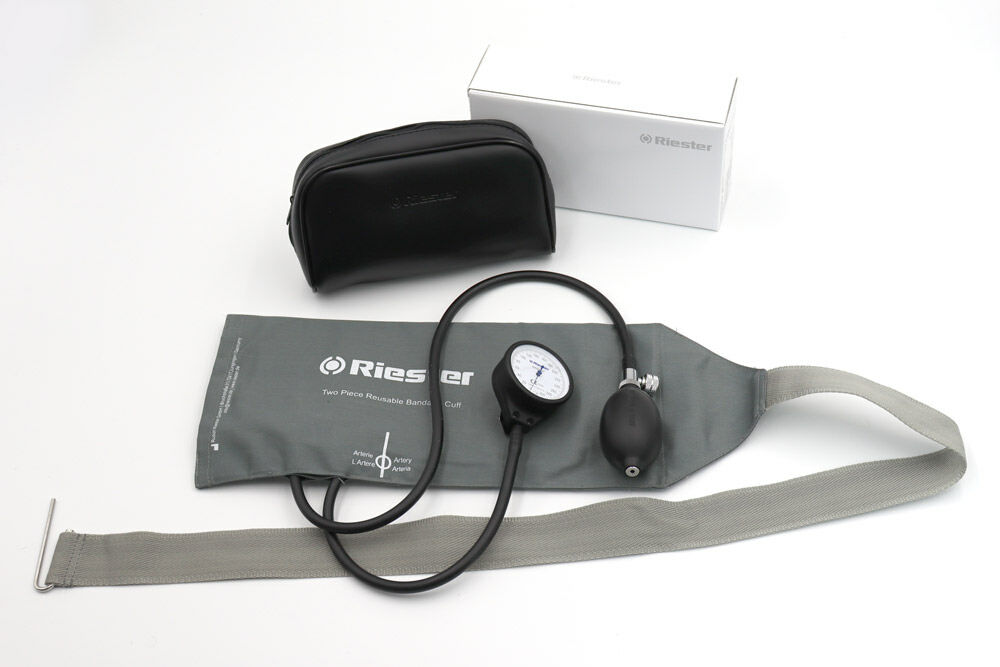 Riester's classic twin-tube sphygmomanometer has been further improved and reduced in weight. Available in a latex-free version (please enter LF for latex-free when ordering). High-quality precision sphygmomanometer-twin-tube model with black lacquered metal casing.
Features and benefits
for both the clinician and patient
Fast inflation of the cuff due to the dual tube and efficient pump
Stainless metal clamp for hooking the pressure gauge to the cuff for convenient measurement viewing
Microfilter protects air release valve and measuring system.
Lifelong precision due to the virtually non-aging precision movement, with specially tempered copper-beryllium diaphragm for pressure-loading capacity up to 600 mm Hg
Air release valve, wear free, with fine adjustment
Large manometer scale ø 49 mm (1.9 in) and optimised scale and pointer design for improved readability of values
Easy to disinfect high-polished manometer surface.
Accurate with maximum error tolerance +/- 2 mm Hg (in-house quality testing)
Safe, microfilter protects air release valve and measuring system
latex-free version available (please enter 'LF' when ordering for latex free version)
Includes vinyl zipper bag