Vet I Oto-/Ophthalmoscope
The Riester Vet I Oto-/Ophthalmoscope comes with operation otoscope, ophthalmoscope with accessories and spare lamps in impact-resistant case.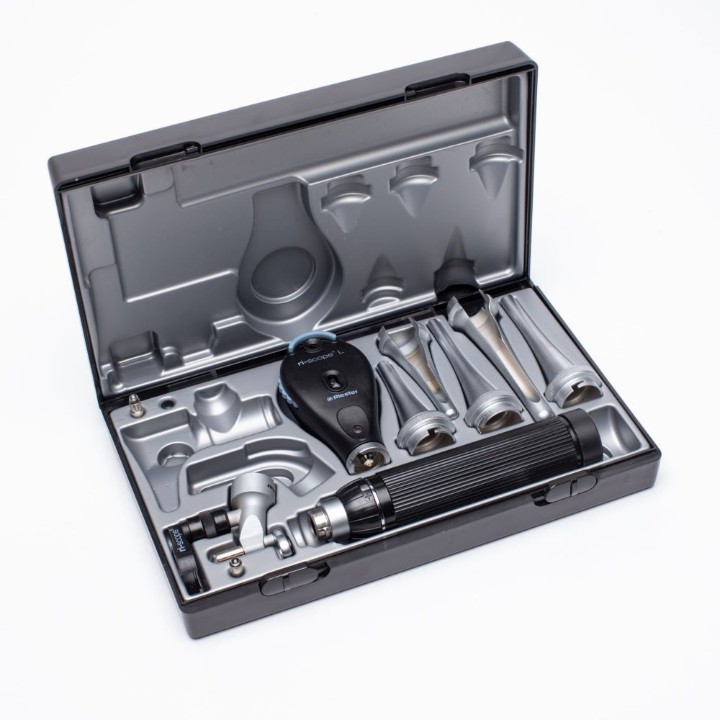 vet de luxe I – details
ri-scope® Operation otoscope Veterinary head
ri-scope® L1 Ophthalmoscope Head
Bayonet fitting on the heads for fast and secure attachment to the handle
ri-scope® Operation Otoscope Veterinary Metal Specula
a) Unslotted, sterilisable at 134°C for 10 minutes in steam sterilizer:

diameter 4 mm, 83 mm long
diameter 5 mm, 62 mm long
diameter 6 mm, 82 mm long

b) Slotted, sterilisable at 134°C for 10 minutes in steam sterilizer:

diameter 7.5 mm, 68 mm long
diameter 9.4 mm, 92 mm long
3 spare lamps (Xenon 3.5V lamp or Halogen 2.5V lamp)
a) 1pcs for the operation otoscope
b) 1pcs for the ophthalmoscope
c) 1pcs for the nasal or tongue
Swivel lens
Impact-resistant case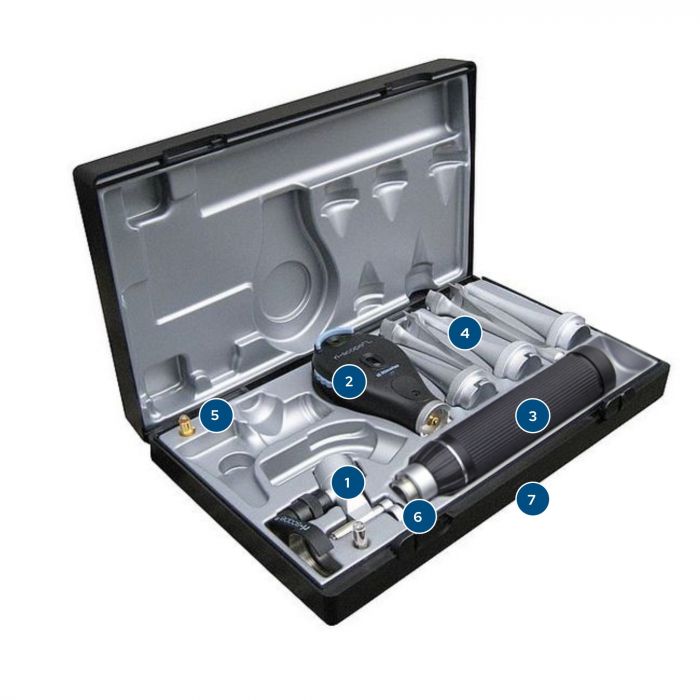 Otoscope Features and Benefits
Customer's choice of Xenon 3.5V lamp or Halogen 2.5V lamp
Swivel lens with 2.5x magnification
Moveable, slotted speculum holder can be locked in any position
Open design for unhindered use during examination and operation
All-metal operation otoscope for long service life
Reusable metal specula made of high-quality chrome-plated, corrosion-free metal
Ophthalmoscope Features and Benefits
All Ophthalmoscopes Features:
Optimized high-performance optics with aspherical condenser lens
Parallel beam path
Dust-proof lenses
Large selection of power sources: handy and stable handles, practical chargers and well-conceived diagnostic stations
L1 Features
Dioptre wheel with 29 corrective lenses Plus 1-10, 12, 15, 20, 40 Minus 1-10, 15, 20, 25, 30, 35
Easy-to-operate aperture hand-wheel with semi-circle, Small/medium/large circle fixation star, slit and red-free filter with contrast-enhancing effect.
Includes filter wheel engageable for all apertures with symbol display, red-free filter.