A new generation vision chart. Including a wide range of test charts, precise test distance adjustment. Clear and sharp screen display, the brightness reaches 160cd/m² (min).
Possessed of red gren mask function. Easy to upgrade by using a USB Disk.
Small Size, easy to install, Only 1.6kgs. Desktop and bracket installation are both available.
The specification of our vision chart
LCD
15-inch XGA Panel
Distance
2M - 7M (in steps of 0,5m)
100inch - 280inch (in steps of 20inch)
Remote control
IR
Remote control battery
AAA
Brightness
160 cd/m²
Optotype
E, C, Letter, Number, Children
FUNCTIONS and TEST
Snellen Chart (E) - Landolt Chart (C).
Letters Chart - Numbers Char - Children Chart.
Changing optotypes of different dimensions (larger/smaller).
Setting of the mask (horizontal mask/vertical mask/single mask).
Red and green mask (half is red and half is green).
Changing of the background (white background/black background).
Contrast sensitivity chart (100%, 90%. 80%...20%, 10%, 5%).
This function is available in the above chart test and ETDRS test.
ETDRS (Standard Logarithmic Visual Acuity Chart).
Ishihara.
Astigmatic Dot Pattern/Cross Cylinder - Astigmatic Fan Dial.
Amster - Fixationspunkt - GR Panel - Worth-test - GR Balance.
Street Lamp - H/V Coincidence - Stereo - Schrober.
Mirrored setup function, which enlarging the double test distance.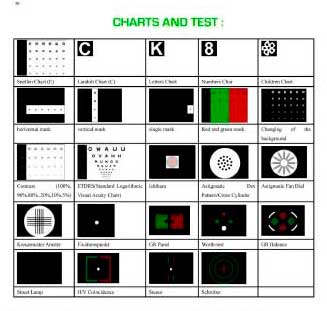 ADVANTAGES
Mirrored capacity enlarges to the double test distance.
Vectorgraph with High precision.
Standard optotype design.
All of optotypes are changed at random. The direction of single masked letter can be changed at random as well.
Not pictures inside like other LCD vision chart, all of the tests are designed by our engineers one by one.
2G CF card is easy to upgrade.
Adding some new functions for free within the lifetime of the equipment.
Developed base on Linux operation which will avoid some unnecessary dispute with the Microsoft Windows.
Adding your own logo to the welcome interface is available.
Adding more main languages is available subject to your requests.
Possibility to show video like advertising. Changing the video as you like is available.
FEATURES
Test chart has been designed based on the ETDRS letters.
Very easy to use.
A wide range of tests including color vision.
The precious test distance adjustment.
Different kinds of test image.
The red-green, contrast and mask functions are all included.
The user-defined test list.
Small size, easy to install.
Adopt the CF card, which is easy to enlarge.
The self regulated slide.
Desk and bracket installation are both available.
The step of color adjustment
Press MENU button first, then it will be displayed as the following figure:
Press MENU button one more time, it can choose contrast as the following figure:
Press "+" OR "-" button to choose colour level again, then press MENU button, it will be displayed as the following figure::
Press "+" OR "-" button to choose the colour what you want; after press MENU button again, it can through pressing "+" OR "-" button to adjust colour values.

Press AUTOAUTO button to exit the operation.
Press AUTO button continuosly to exit directly after finishing adjustment
Same As Other Operation
Vision Chart LCD ACCESORY
| | | |
| --- | --- | --- |
| Remote Control | 1 | |
| Battery | 1 | |
| Power supply | 1 | |
| Braket | 1 | |
| Power Cord | 1 | |
| Instruction Manual | 1 | |
| Expansion screw | 1 | |
| 4x40 self-tapping screw | 1 | |