Te-xam diagnostic penlight is exceptionally bright, all possible combinations to illuminate body openings such as the throat, nose and ears for pupil examination and general use. The e-xam is equipped with a xenon lamp / LED lamp with AA size handles for use with alkaline batteries (sold separately).
The e-xam diagnostic penlight is photobiologically validated high-performance penlights for medical diagnosis of throat and pupil. The penlight is an examination penlight torch with inbuilt tongue depressor holder serves the trained physician or specialist as an aid in the detection, diagnosis, monitoring, treatment or alleviation of illnesses, injuries or disabilities.
e-xam® diagnostic penlight – details
Lamp head, LED
On-off button
Battery Compartment
Tongue blade holder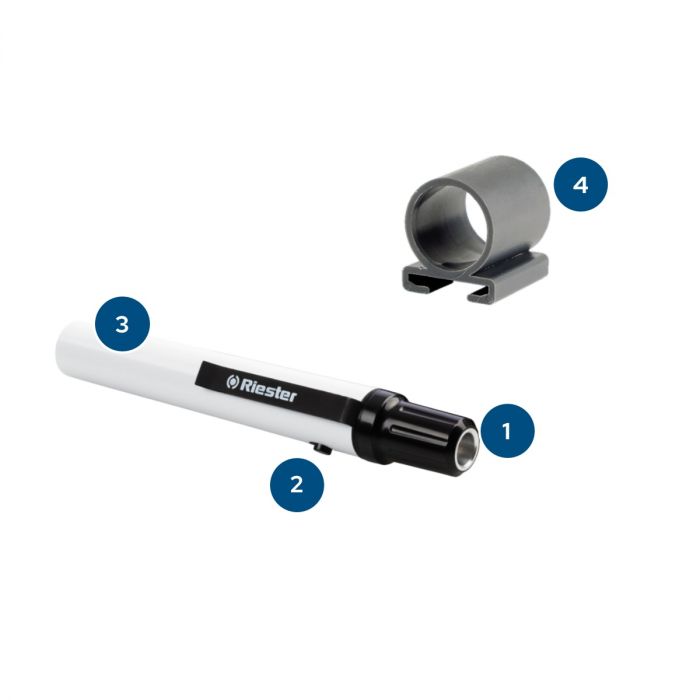 Features and benefits
Photo-biological validation as diagnostic lamp for pupils according to standard EN 62471:2008.
UV free light through LED illumination.
Aluminium outer casing with disinfectable special lacquering.
Simple on/off function through contact with the metal clip.
Supplied singly or in packs of 6. (assorted colours or six per color)
Including 2 batteries type AAA.