Decades of Glaucoma Care Innovation.
In 1959 Dr. Bernard "Bernie" Grolman flipped on the radio during his morning commute to American Optical, now Reichert Technologies, and heard a public service announcement about the prevalence of glaucoma. Being familiar with tonometry due to his industry experience he thought, "What if I could create an instrument that eye doctors could use to help diagnose a leading cause of blindness, without touching the cornea?"
"The need for a non-contact tonometer was so obvious," said Grolman, who would spend the next 10 years of his life designing and testing the original AO Non-Contact Tonometer.
Using an air pulse with electro-optical detection to provide Goldmann-like measurements, the non-contact tonometer enabled user-friendly measurement of IOP without the need for topical anesthesia or corneal contact.
Unveiled in 1971, the NCT I was the buzz of the entire industry. American Optical, now Reichert Technologies, continued to innovate on the concept, introducing generation after generation of non-contact tonometer.
Fast forward to 2001 when David Luce, Ph.D. discovered that, using the same basic measurement process, information about corneal biomechanics could be extracted from the NCT measurement signal. The Corneal Hysteresis measurement was born and the instrument that became known as the Ocular Response Analyzer was made available for sale in 2005. At long last, the topic of corneal biomechanics moved out of the laboratory and into the clinic, spawning entire new sections on conference programs and launching the subject to the forefront of the ophthalmic publication landscape.
Reichert remains the world-leader in tonometry products and has become the pioneering innovator behind Corneal Hysteresis.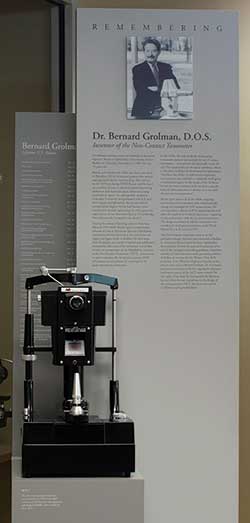 Dr. Bernard "Bernie" Grolman, NCT I historical display.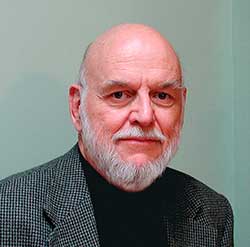 David Luce, Ph.D.