True atrial screening
Reducing costs through early detection of atrial fibrillation and atrial flutter
Preliminary assessment of the need for further invasive diagnosis, therapy or surgery
Even more effective patient monitoring following surgery or ablation
The unique diagnostic package that allows you to specifically search for atrial anomalies.
Thanks to a sampling frequency of 8000 times/sec., our medilog®AR recorders detect and mark P and T waves online and in real time.
In combination with the unique medilog®DARWIN 2 features such as ECHOView®, you are now able to distinguish between atrial fibrillation, atrial flutter and A-V block patterns at a glance.
You no longer need time-consuming beat or arrhythmia analyses to detect all atrial events.
The ageing population
Just one reason why medilog® DARWIN 2 Atrial is so important… Atrial fibrillation (AF) is the most common form of irregular cardiac rhythm and affects approx. 2 % of all people.
The risk of such disease increases with age and the number of people affected is going to double over the coming 20 years. Atrial fibrillation is believed to account for one third of all hospital admissions for cardiac rhythm problems and it is believed to cause around 15 % of all strokes.
Early diagnosis and treatment could reduce the enormous costs for the health care system for emergency treatment, and increase the patient's chance of survival.
medilog®DARWIN 2 Atrial puts a reliable, affordable and non-invasive screening device in the hands of people that can make a difference.
---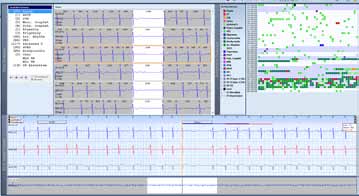 In the atrial analysis window, A-V block patterns and other critical anomalies are presented simply and clearly to get a detailed overview at a glance.
ECHOView® presents more than 15,000 beats in a compressed format and allows the quickly check large ECG segments for incorrectly located P and T waves.
When you click on an unusual ECG segment in the ECHOView® window, the ECG waveforms are displayed and you can check them for indications of atrial fibrillation or atrial flutter.