High Performance Digital Imaging Software
The VK-2 is a high performance digital imaging software system designed to help physicians access current patient data across multiple workstations, quickly review images with patients, and view all information needed to make informed clinical decisions in just one location. The VK-2 Digital Imaging Software easily captures and stores retinal photographs taken from Kowa retinal cameras as well as images from other sources including a scanner.
Features and Benefits
3 Instrument Input in 1 Imaging System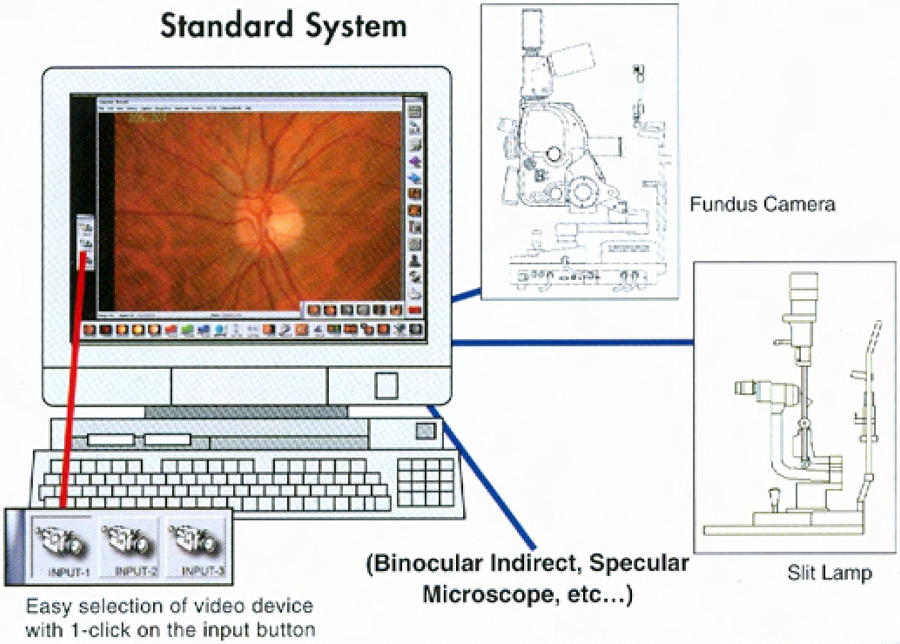 Sophisticated Image Capturing
VK-2 supports high resolution cameras for best detailed images possible.
2.1 Megapixel Digital Color CCD Camera, Kowa "KD-211C"
1.4 Megapixel Digital B/W CCD Camera, Kowa "KD-144iF"
3 CCD RGB Color Camera, "Sony* DXC Series"
Specific Nikon** Digital SLR Camera
---
Patient Observation Lineup of the best tools for informed consent
Patient Education
Image Processing According to Diagnostic Needs
---
Database System Designing imaging treasures
Multiple Image Display
Easy analysis with 2, 4, 6, 9, 16, 36 images displayed at the same time.
Capture Type Toolbar
Easier view with a simple click on the toolbar for multiple display of images of the same capture type among color, FA, ICG, slit and others.

Detailed Database Viewer
---
Extended Functions Simplicity for perfection
Magnifying Glass
The mouse cursor changes into a customizable magnifying lens (when the left mouse button is pressed).

And More
Merge and subtract, noise reduction, histogram chart, analysis of gray level, auto enhance (multiple display), each enhance function, red free filter processing, edit data, input data, search data.
---
High Capacity Storage and Archive Unlimited data bank of your own
CD-R, DVD-R, DVD-RW optical media for easy archive.
Support Twain32 image scanner.
Selectively archive enabling savings of selected data to any media.

Direct copying of images to external disk drive.
Opening and addition in the VK-2 database of other image files (JPEG, BMP).
---
Special Functions Always identifying every image