Scican Statim 2000 Autoclave - Refurbished, 6 Month Parts & Labor Warranty
The STATIM 2000 Classic boasts a 6-minute cycle, but has the added advantage of employing a fully removable chamber so you can aseptically transport a set of freshly sterilized instruments directly to the procedure area.
The STATIM 2000 is fully automatic. Simply select one of the three sterilization programs and with a single touch of the keypad, begin the cycle. An advanced microprocessor controls all functions and maintains optimal sterilization conditions, from start to finish.
SciCan's STATIM cassette sterilizers have a biological effectiveness that has been proven in tests for hollow and solid instruments at many internationally recognized institutes in Canada, the United States, and Europe.
The STATIM 2000 is a reliable cassette sterilizer that's compact enough to fit in procedure areas and fast enough to sterilize jewelry, expensive Lasik, PRK, endoscopic and cataract instruments, including phaco handpieces, between procedures - it can complete an unwrapped sterilization cycle in just six minutes and a wrapped cycle in 14 minutes.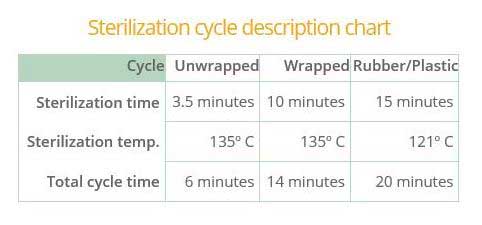 Ultra-fast 6 minute unwrapped cycle14 minute wrapped cycle
Exceptional instrument turnover
10 minute Dri-Tecc Drying Technology
Aseptic transfer of instrument directly to the point-of-use
Reduced instrument investment
Prolongs instrument life
6-month parts and labor warranty!
Specifications
Condition :Refurbished
Controls :Automatic
Tray Size :11" x 7" x 1.5"
Trays :1
Type :Steam Autoclave - Class S
Overal Depth :19"
Overal Width :16.25"
Overal Height :6"
Voltage :110-120V
* ACCESSORIES AVAILABLE UPON REQUEST*