Automatic Reclinable Chair. Stand includes 2 trays, Refractor arm, Slit Lamp swing table, Lamp for light.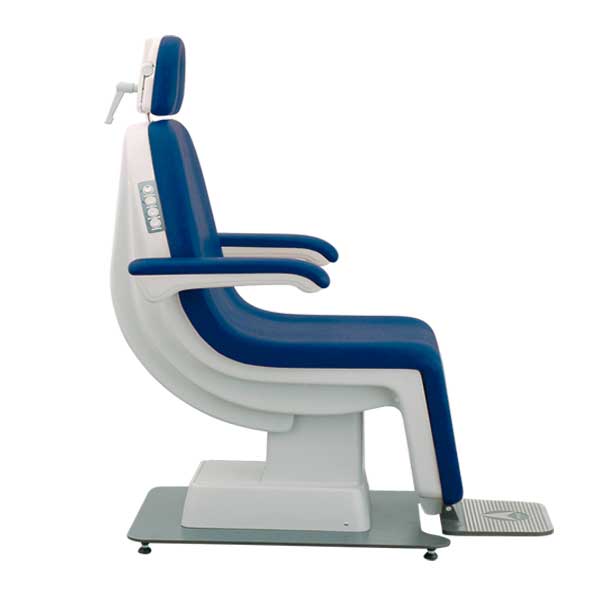 Unit Chair Exceller
Automatic Rests 45 °.
Patient Resting Sitting.
Movement seesaw.
Support Head tilt / reclines and up / down.
General Specifications.
Operated by buttons on the side of the chair.
Low noise nvel.
Total Swing Arms.
Support Head tilt / reclines and up / down.
Injected foam (best finish).
Upholstered with stitching.
Movement seesaw.
Pedal drive (optional).
Folding pedals.
Foot Levelers.
System rise and fall in aluminum with speed geared motor.
Return to Zero (the starting position).
Carrying capacity - 180 kg.
Technical Specifications.
Feeding tension. 127 / 220V
Operating frequency. 50/60 Hz
Chargin Current. 2A
Energy consumption. 150W
Maximum lifting capacity. 180kg
Dimensions (normal). 1000 x 700 x 1310mm (C x L x H)
Dimensions (recumbent). 1640 x 700 x 925mm (C x L xA)
maximum / minimum seat height. 740mm / 550mm
Net weight. 90kg
Gross weight. 124kg
---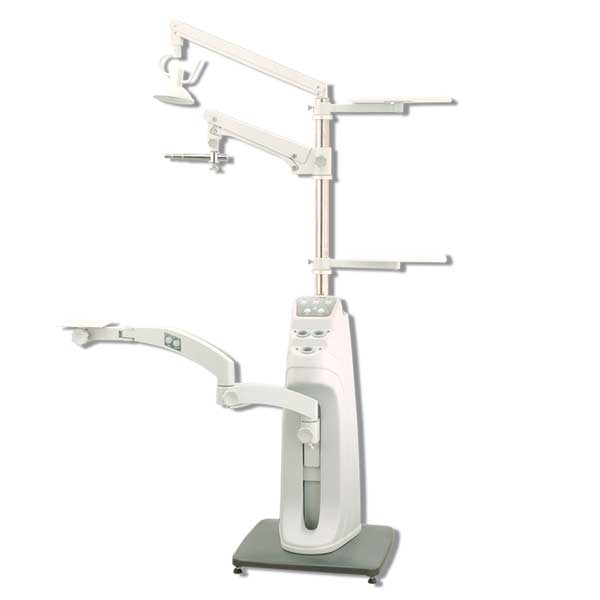 OPHTHALMIC STAND EXCELLER LX - with slit lamp arm.
2 trays.
External finish in Fiberglass.
Arm Pantographic for Phoropter, Balanced.
Battery Charger for Welch Allyn - code. 71670.
With Slit Lamp Arm (1 team).
Control up and down the chair, in the Column panel.
Internal structure in steel.
Power on / off light room.
Power on / off projector.
Iron Lamp pantograph CONTROLLED 3 light intensities.
Increased course arm with services for children and disabled person
Movimento rise and descida arm lamp slit balanced, using counter weight (equal Haag Streit - Setting - Reichert).
Adjustable feet.
System lock arm through handpieces (rotation)
Support for OBI.
Lock on the arm of the slit lamp to release the rise and fall.
Technical specifications.
Power supply voltage. 127/220 v
Operating frequency. 50/60 Hz
Charging current. 2A
Energy consumption. 120W
Maximum lifting capacity. 60 kg
Equipment dimensions. 1000 x 730 x 1735 mm (C x L x H)
maximum / minimum height Slit Lamp board. 935 mm / 735 mm
Net weight. 120 kg
Gross weight. 156 kg